UPPER MILFORD TOWNSHIP – NOTICE OF BOARD OF SUPERVISORS MEETING  
 See Minutes and Agenda page for details June 4th. 
Upper Milford Township Board of Supervisors will hold their regular meeting of June 4th via ZOOM at 7 pm.  Information to access the ZOOM meeting and meeting agenda will be listed by noon Thursday, June 4th on the Township website, www.uppermilford.net.   Public comment for the June 4th meeting will be taken by submission only.  Comments can be submitted to the Township at info@uppermilfford.net or calling the office at 610-966-3223 prior to 4 pm June 4th.
Upper Milford Township, 5671 Chestnut Street, Old Zionsville, PA.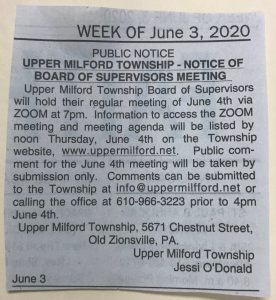 Upper Milford Township
Jessi O'Donald
Secretary/Treasurer
June 3rd